Traditional Models
What I mean by "traditional" is the model of fifes commonly played during the 20th century before the move into more melodic, "flute fifes" that began to appear in the 1950s.  Traditional fifes – usually one piece but sometimes in two pieces – had the tight cylindrical bores of historical fifes but minor innovations to improve playability.  For the sake of compartmentalizing these, I consider fifes made in the "traditional" style during the 20th century to be in this category; the ones played by my father's and grandfather's generations in the fife & drums corps that grew during this time.  These models have become collectibles and iconic for both the "jaybirds" and younger hobbyists.  I am privileged to have studied under three of these master-craftsmen and with that, I have come to understand the methods of many more.
Traditional Pitch, when it comes to fifes for this era, fell around A=443 give or take.  It is not an "industry standard" and often a corps, if they gauge their "chosen pitch" at all, will base it on their best player who may play comparatively softly or "roll it in" which will lower the pitch, or "pump a lot of air" into their fife, thus tending towards sharp.  In other words, a typical fifer might play between 441 and 446 Hz.  Some players will slightly move the plug-cork to "tune" their fife but while this can alter the tonic tone to be played (your "D"), it throws the tuning out for the rest of the scale.  Tuning is, in the words of many old timers, "in the fifer, not the fife"; this means it is FAR more about how the fifer blows into the instrument, rolling the embouchure in towards or away from the lips doing the blowing, general posture of the player doing the playing, &c.
While the fife is obviously of the flute family, it is best played like one would regard a piccolo as it reacts as one with the tight bore.  I have had many professional flute players not understand this and wax on about how these instruments are poorly made for they do not play like a flute, only to be chagrined when a folk fifer steps up and rips out a tune.  Please see my page regarding historical fifes.
For your amusement, although copyrighted and not for general public re-use. – YE ART OF YE FYFE
The traditional fife is an example of an instrument still reflecting the varying pitches of the 18th and 19th centuries… You might do yourself a service to read this.
Corps Discount for sets purchased – Please inquire!
MusiqueMorneaux@gmail.com      or    860.749.8514
***
Cloos Crosby/Penzel Muller two-piece Fife
When I was young – the '70s – pretty much ALL the old fifers swore by this design or model of fife.  It was the standard for some time "back in their day" but it was no longer being made and therefore damned near impossible to get one without inheriting one from family or a buddy.  It was designed by the Cloos Company in the late 19th century and when Penzel Muller bought them out, they continued the model with minor aesthetic alterations.  I have six or seven in my collection, all just a little different but essentially the same; some made by the Cloos Company while some made later by Penzel Muller.  Recently I was commissioned by someone to replicate this and when I placed photos of the progress I was encouraged by some fifers to offer this as a regular choice.  Unfortunately today labour is what we judge the cost of things while in the 19th century the price of materials was the greater affector of price.  So this isn't cheap but every bit as good as an original.  Head is made of Ebony and the body of Rosewood.  Metal work is German Silver and brass.  Pitched for trad Bb.
These are made to order to expect 6 to 8 weeks lead time.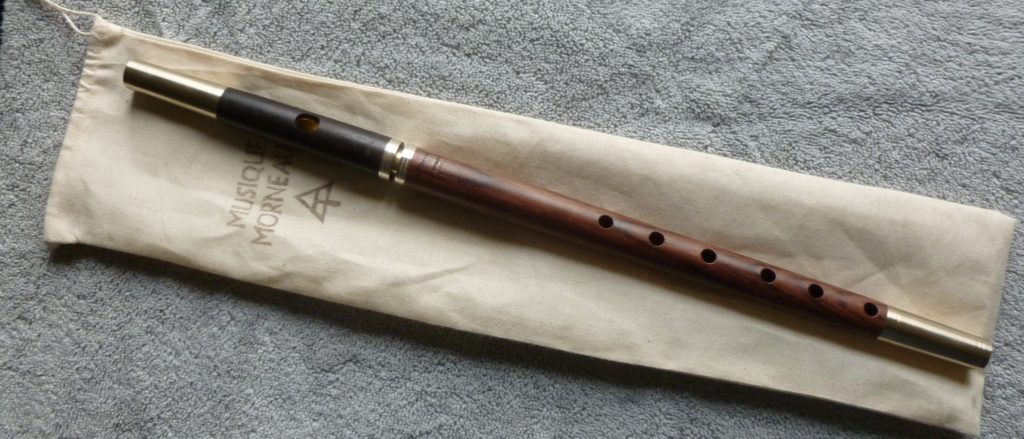 "You did an excellent job on this replica and it plays very nicely! Thank you so much for your hard work on this project!"   David Degaraff – Williamsburg, VA.
******************************************************************************************************
********************************************************************************
the Kip Sevigny Model Fife
Clifford Anthony "Kip" Sevigny lived from 1897 to 1975.  Born in Tylerville, Haddam, CT, he was an Army veteran of both World Wars (served as an anti-aircraft gunner), commissioned a 2d lieutenant in the CT State Guard Reserve, a volunteer fireman in the town of Chester, Connecticut, had worked as a tile cutter, a carpenter with his father by civilian trade, and a fife maker.  Aside from a stint during the Great Depression when he went south to work for Sunoco and managed a few gas stations for a cousin, Kip lived his life in Chester.  His house still stands which overlooks the north side of St-Joseph's Catholic Cemetery where he is buried with his parents and sister; he never married.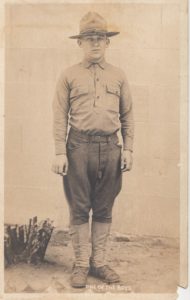 Kip's fifes were well known in his day, but he made them in small numbers, unable to compete with the more generally known makers such as Cloos and Penzel-Muller.  He had his standard design which he complained bitterly that the Cloos Company had "stolen" from him… The Cloos "Improved Model" does indeed share the profile and bore diameter.  Years later, Ed Olsen told me that Henry "Ed" Ferrary had, in fact, stolen Kip's design – the tone hole layout and bore diameter but used his own boring method (see the Nach-Ferrary).  When I compare the several standard design Kip fifes I've handled to Ferrary's standard Bb layout, I can see Ed's point.  Ralph Sweet had paid Kip a visit in around 1957 to watch him make fifes and related to me what he had witnessed of the process. Kip supplied, during his lifetime, all the fifes utilized by the Chester Fife & Drum Corps and some of his fifes are on display at the Sousa Band Archives at the Center for American Music in Illinois; the post-1892 Sousa Band had apparently purchased a set of Kip's fifes very early in the 20th century and utilized them until about 1930 when the band shut down.  Or so the story goes.
Kip died in Chester in 1975; his fifes had already been eclipsed by those made by Henry "Ed" Ferrary in nearby Essex.  While Kip had been making his bores with twist drills and reamers, Ferrary utilized a "gun drill" which made a smooth, burnished bore.  Thus, Ferrary fifes were easier to play particularly in the highest register.  My replica of Kip's "standard design" features the short, tapered ferrules he liked to use and the bore is made as I make all my bores; it plays actually a bit better than Kip's fifes for mine has the smoother bore with no hitches, perturbations, or interruptions left behind by the old "twist drill method".  I offer this excellent model to keep the memory of Kip alive and to offer another locally impactful fife to the collection.