We craft keyless flutes for the folk music scene which includes Irish/Celtic music, early American, &c.  All of these are made with care and have been markedly improved as a result of input by performers over the years.
The New Model Flute

In the key of D, these are the standard diatonic flutes for the Irish music scene and beyond. The blackwood* example is considered to be the best for stability of the wood with mopane being an immediate close second. Rosewood is a wonderful sounding flute and the maple example is a very good flute for the money, far better than similar flutes imported and marked to beginners and intermediaries! Mopane is currently reserved for international sales in the wake of the CITES ruling restricting free market trade of blackwood* and rosewood. All models have an internal cork and a leeway cutaway to facilitate higher tones played while even aiding in that brassy sound of the low tones so desired among performers today. Silver rings on all models but the maple.
*African Blackwood is made now as custom order only.  Please inquire for price.
.                   "The flute just arrived! It's absolutely beautiful, thank you! And the sound is wonderful, I can play this low D all day and be happy. Such a rich and powerful tone! Thank you for this beautiful instrument, and my best wishes!"          Sérgio – Sao Paulo, Brazil

<< Merveilleux! J'ai joué de la flûte irlandaise pendant 30 ans et celle-ci est absolument mon préféré! J'aimerais que vous réalisiez vos instruments ici! >>       Françoise S – Les Sables-d'Olonne, France

               "I've received the flute today. I really love this!!! It looks amazing, and sounds awesome! Thank you very much!!!"  Anzai Kunihiko – Shimo-Nagakubo, Japan
______________________________________________________________________
Higher Pitch Flutes


For those of you looking for diatonic instruments to play in keys above the standard "Irish" D, these 2-piece flutes can be had in either rosewood or mopane wood and are made to order.  I also offer these in half-step higher versions upon request: A#, G#, F#, and D#… Check with me if you're interested.  Sometimes the rings are silver but sometimes I do other things such as contrasting wood or fake ivory.
*African Blackwood is made now as custom order only.  Please inquire for price.
____________________________________________________________________
Walking Stick Flute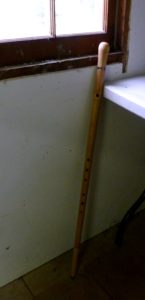 Ralph's walking stick flute was inspired by a late 18th century flute in the Boston Museum of Arts, he tells me, and is a very good addition to your historical impression be it 18th or 19th century.  It was once rather popular with our customers and when sales fell off we discontinued it.  However, recent pressure by our fans have brought it back – limited quantities, mind you, and always subject to availability.  Key of D and currently only in maple.  Please note: NOT an orthopedic cane!!  NOT meant for weight to be leaned upon it but rather is a walking stick that doubles as a flute.
550$ with 30$ shipping/handling.